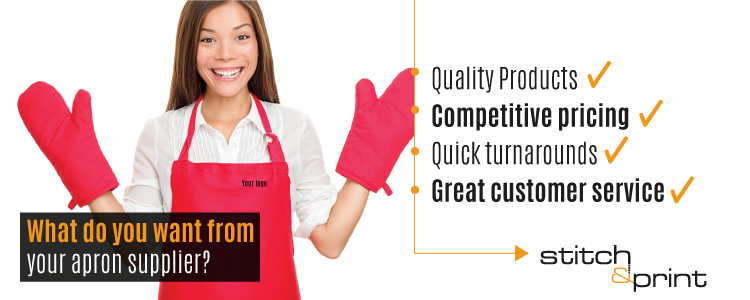 Embroidered Aprons For Carefree Cumbrian Hospitality

Embroidered Aprons are an easy way to add continental style and colour to your staff uniforms in the hospitality, catering and care industries. They help to differentiate your branding and are a practical way of protecting workwear and reducing laundry costs.

Whether it's Hotel or Restaurant, Bar or Cafeteria, we've got the right embroidered apron options for your business in a range of styles and colours to match the style and colours of your venue.

And, of course, they can all be embroidered here at Stitch & Print to create the bespoke aprons that will add to your branding and your professional image. Get in touch to discuss prices and options for your hospitality business.

Embroidered Apron Cumberland Special
Create Yours Now!
*

vat included at standard rate