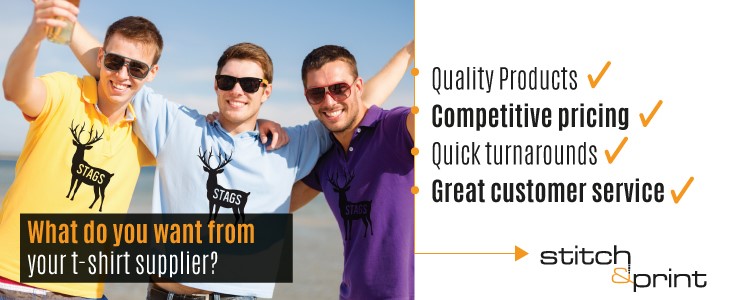 Printed Stag T Shirts for the Cumbria Lads

From the beaches of Brighton to a crawl along the Blackpool sea front, Cumbrian lads will stand out from the crowd with our stag do t shirt printing.
Stitch & Print have a range of unique stag t shirt printing designs guaranteed to leave a lasting impression - far away from your home turf in Carlisle or Penrith. Stag parties tend to be wild affairs so make sure you can recognise each other across a crowded bar (and that the groom and best man don't go missing in action); with one of our lads' stag do T shirts.
If you are heading abroad instead of sticking to Cumbria, why not make the trip even more memorable with a different custom t-shirt every night. We have styles, colours and designs to suit all stag parties from first time grooms to taking the plunge again.

Stag Party T-Shirt Special Offer
Create Yours Now!
*

vat included at standard rate