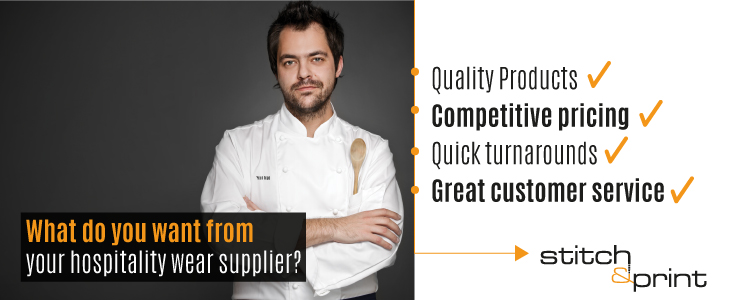 Hospitality Uniforms for Cumbria & North West's Growing Tourist & Leisure Industries

Our range of Hospitality Uniforms covers everything from uniforms for bar staff, waiters & waitresses to chef whites and husekeeping uniforms. As Cumbria's favourite hospitality uniform suppliers, we are the perfect choice when you need to freshen up the look of your staff – not only those in the kitchen but those working front of house or serving on the bars too.

At Stitch & Print, we have a specially selected and prepared range of hospitality workwear uniforms developed specifically for the hotel and leisure sector which can be embroidered or printed to promote your brand and identity.

The BarGear range of shirts and blouses has been designed with comfort, style and practicality in mind. When you add your branding, you'll have instant staff recognition for customers along with an increased professional feel to your premises.

And our chef uniforms do everything that they should do while being branded for your business too – not just ideal for those with open kitchens but a must if you are building your team and wanting a consistency from kitchen to front of house.

As you would expect, Stitch & Print carries a full range of bar aprons, bib aprons and waist aprons too, along with chef's whites, hospitality waistcoats for service and even branded clothing for your kitchen team. Just get in touch or browse our full embroidered workwear brochure online.

Hospitality Industry Special Offer
Create Yours Now!
*

vat included at standard rate